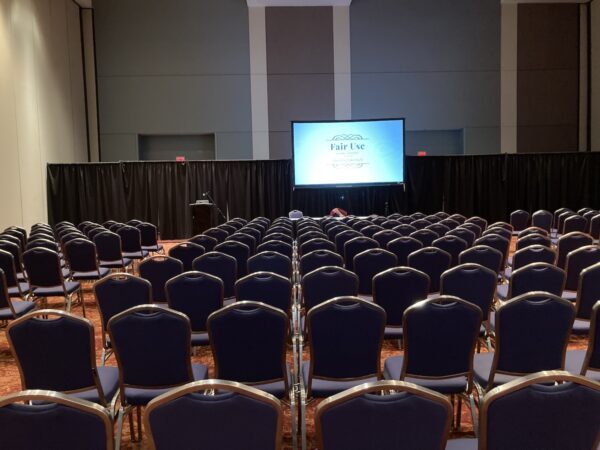 I gave my first talk in person to librarians since 2019 this week. I'd been traveling less for climate change reasons but also for "sort of tired of it" reasons before Covid hit. I'd done two talk to non-library groups–one about Fair Use for lawyers and one about Libraries of Things for recreation department workers–but NELA was my first library talk. NELA is always one of my favorite conferences. Good group of people, I have no governance/admin role, interesting programs. I'm also nearly always able to drive there.
This time I was able to check out the reports from the New England state librarians (mine was home sick, but Massachusetts seems like they're doing great things), see Robin Bradford talk about romance novels (so informative), learn what Simsbury (CT) is doing for DEI programming, and then give my talk. The room was big and it wasn't super full but I enjoyed it and I think my part of it went pretty well. It was basically the Fair Use talk, rejiggered to be relevant to library workers. You can read that talk here. I drove home same day which may have been a stretch since it's over two hours each way; it's been a long time since I was at a big event with library people, in person. I miss it.
The other big milestone was that I submitted my last column for Computers in Libraries. I've been writing this column either on my own or with other people for fifteen years. Since I've started my new gig at the Flickr Foundation I've had less time for all of my other paid and unpaid work and I've been gradually trimming back. I've loved working with the folks at Information Today, my editor Dick Kaser especially, but a nearly-monthly deadline was starting to feel like a lot. I loved the work I did there, even if you can't find most of it on their website. I'd like to get back to my newsletter.
Next up will probably be pulling back a bit from ALA. I've been a Chapter Councilor for a long time. It's a large commitment and I'm getting more okay with my status as someone who prefers to stay a bit closer to home for my professional development. ALA continues to be an organization that hasn't entirely embraced virtual ways of working. My work with VLA continues to be pretty fulfilling and I intend to keep that up.