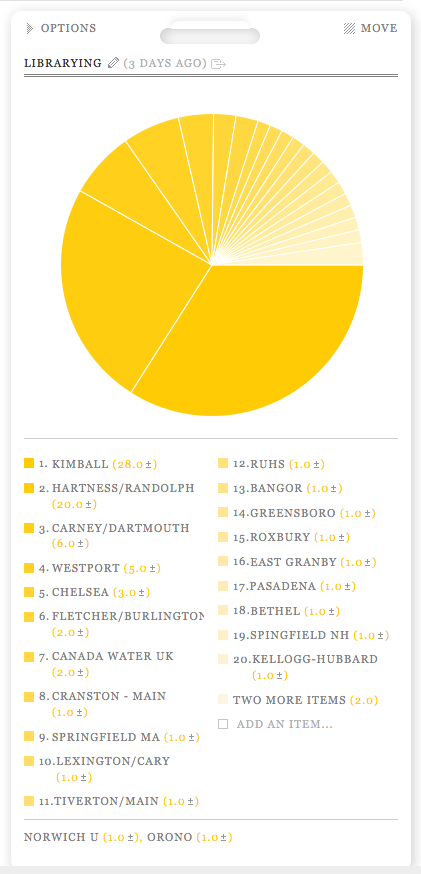 Again with the library tracking! This is now six years in a row. Previous years: 2014, 2013, 2012, 2011, 2010, 2009 and some reviews from 2003
I went to twenty-two different libraries in seven states and one non-US country for eighty-two visits total. Did not intend this but it's the same number of visits (though many fewer individual libraries) as last year. A few things influenced this: I did a lot less distance traveling this year but did a lot of work in local libraries, I also taught at a college where the library was a major hangout for me (thanks VTC Librarians, you are the best) and I worked a lot at my local public library. Here's the short annotated list of what I was doing in libraries last year.
Kimball Library – my local public library, I work here and I am a patron here
Hartness at VTC – the best academic library anywhere near here and I worked at VTC this year
Carney Library UMass Dartmouth – probably my favorite library building of all time (still!)
Chelsea VT – helping with tech planning and visiting my friend Virgil
Westport MA – the library where I summer, trying to warm up to this library
Fletcher/Burlington VT – did consulting here this year and spent more time here
Canada Water UK – the closest public library to where my sister and I stayed in the UK, nice busy library
Cranston RI – visiting my friend ed, great renovations!
Springfield MA – did some work on the way to CT, neat building with a weird vibe
Cary Library, Lexington MA – did a talk earlier in the year, really nice place and great people
Tiverton RI Main Branch – lovely new building across from the Sip n Dip, great to see it!
RUHS Library – high school library in my town
Bangor ME – a neat classic library which is getting renovated
Greensboro VT – the quintessential Vermont library
Roxbury VT – taught an ipad class and saw how it's been growing and changing
East Granby CT – killing time bfore a CT talk, this was a great place to get some R&R
Pasadena CA – there was a fancy event here for CLA and we had a nice time hanging out and talking to people in the theater.
Bethel VT – another place I taught an iPad class
Springfield NH – did some consulting for a library having growing pain challenges as they make decisions on whether to automate or not
Kellogg-Hubbard VT – went to a slide show given by a friend of mine, great to be here again.
Norwich University, Northfield VT – sropped by and saw their renovations and excellent art exhibits.
Orono ME – a pretty and small library
The bigger deal was really the Passport to Vermont Libraries project, a summer program put on by VLA which got hundreds of Vermonters visiting their local libraries and getting passport stamps and other fun adventures. I worked on this with a team of a few other people and it was a very successful program and I think a chunk of that was all of our enthusiasm for our library visits. So I didn't get my further in my personal project, but professionally I helped get this idea to take off. If you just like library photos, I have more on Flickr.