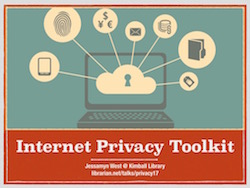 I give talks on the intersection of libraries, technology and politics. My main blog is at librarian.net.
Rural library technology, technology education, and the digital divide
Copyright, fair use, controlled digital lending, and DRM in libraries
Policy issues such as legislation around privacy and social software in libraries.
Technology, website, and social media accessibility issues.
I enjoy public speaking and I've been doing it for two decades nationally, internationally, and online. If you would like me to give a talk, please don't hesitate to read more about what I do my faq or my resume, or just get in touch with me Here are my most recent talks. Previous talks are on the talks archive page. A * indicates keynote
2022
Amigos Library Services, online, 01dec22
NYLA Developing Leaders Program, online, 18oct22
Vermont Conference on Recreation, Fairlee VT, 12oct22
Reaching Across Illinois Library System (IL), 07sep22
Central District Library Council (NY), 25may22
Vermont Bar Association YLD, Montréal QC 30apr22
2021
MHEC Conference, 04nov21
VideoTrust Conference, 25oct21
Southeastern NY Library Resources Council, 04jun21
Rochester Public Library, 17mar21
Vermont Humanities Council, 10mar21
Rochester Public Library, 24feb21
MLA's History of the Health Sciences Caucus, mar21
Rochester Public Library, 10feb21
VLA First Thursdays, 07jan21
2020
Online Unconference of Niche Interests, 29nov20
CAVAL Research and Information Group seminar, 17nov20
CIRN Virtual Seminar, 19oct20
CIL Online Conference, 23sep20
News On Wiki launch seminar, 11sep20
Online Unconference of Niche Interests, 09aug20
Webinar for SEFLIN, 16jul20
Webinar for SWBOCES, 12may20
Webinar for NYLA Developing Leaders Program, 17mar20
Webinar for KCPL, 16jan20