I like to give talks on the intersection of libraries, technology and politics. My main blog is at librarian.net.
Rural library technology and the digital divide
Copyright, fair use, and DRM in libraries
Policy issues such as SOPA, CIPA, privacy, and legislation around social software.
I enjoy public speaking and I've been doing it for over a decade nationally and internationally. If you would like me to give a talk, please don't hesitate to read more about what I do my faq or my resume, or just get in touch with me.
Here are my most recent talks. Previous talks are on the talks archive page. * indicates keynote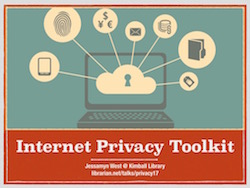 2019
Burlington VT, 22may19
Burlington VT, 22may19
Meredith NH, 11may19
Cambridge MD, 03may19
Randolph VT, 26apr19
St Johnsbury VT, 25apr19
Webinar, WiLSWorld (WI) 12apr19
2018
Webinar for Library Association of Singapore 30nov18
Fairlee VT 18may18
Brattleboro VT 07may18
University of Hawai'i Manoa, 17apr18
Urban Librarians Conference, NYC, 13apr18
TechForum, Toronto ON, 23mar18
Wild Wisconsin Winter Web Conference, 24jan18
South Central (NY) Regional Library Council, 17jan18