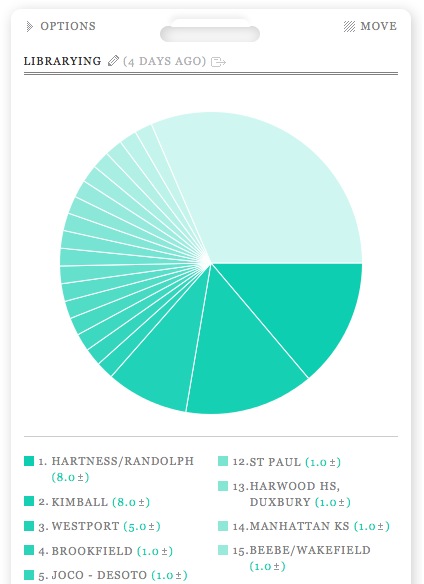 I tracked the libraries that I visited this year, like every year. I have also done this in 2012, 2011, 2010 and 2009. Ten years ago I did a short list of library visits where I actually reviwed the places I'd been. Ah to have that much free time!
I went to thirty-eight different libraries in eleven states for fifty-six visits total. Just a little more than last year. I'm sure I have forgotten some. Here's the short annotated list of what I was doing in libraries last year. Top three libraries are the same as every year: my local public, my local academic and my summer local. All great places.
Hartness/Randolph VT – have not been here so much in the latter part of 2012, but this is still one of my favorite academic libraries.
Kimball VT – my local, I don't work here as much but still go here all the time.
Westport MA – summer library, good for DVDs and other vacation-style stuff.
Plymouth State NH – gave a talk, saw the library. A neat looking place, with a cool clock in the entryway.
JoCo – Desoto KS – a tiny town with a great library where I checked my email while there was a rainstorm.
Ashtabula Public OH – stopped by on a road trip and saw a lot of people with fishing poles. A quirky big library.
St. Johnsbury VT – was here for the Hug the Library event during the unpleasantness.
Minneapolis MN – hadn't been here since the redesign. Enjoyed its shininess.
Natick/Morse MA – killing time between friends and dinner, this was a great place to hang out.
JoCo – Lackman KS – said hello to Josh Neff here!
Beloit Public WI – lovely library, stopped in on a road trip and enjoyed myself. Fancy and shiny and new.
St Paul MN – met a really nice librarian who told me some great history of the place.
Harwood HS, Duxbury VT – my friend Meghan works here, stopped by the say hello.
Manhattan KS – the public library when I was in town to hang out with my friend Donna.
Beebe/Wakefield MA – such a neat place with a great bee-themed marketing campaign.
Giamatti research center NY – Baseball Hall of Fame! My friend Paul worked as an intern, was fun to look through scrapbooks.
KState KS – Donna gave me the grand tour and we got to see the basement.
Nebraska Library Commission NE – said hi to the terrific Michael Sauers and gave a talk here.
Brookfield VT – first time in a tiny library so close to home.
Omaha Public NE – big and beautiful and got to meet the woman who does programming there.
Roxbury VT – another favorite one-room library, haven't been there since they got a bathroom installed.
Somerville MA – killing time before the movies, this library is always busy and has a lot going on.
KANEKO-UNO Library NE – an arty, somewhat private library, we took a brief look around. Very cool space & collection.
Brown/Northfield VT – lovely merging of old and new buildings.
Chelmsford MA – saying hi to Brian!
Boston Public MA – a nice place to chill on a chilly Boston day.
Providence RI – Surprised I hadn't been here before. Neat old building, oddly underused, it seemed.
Lawrence KS – in an old Borders building while they renovated. Quite busy.
Windsor VT – checking out the seed library, great photos of local residents.
Hartland VT – stopping by because I was in Windsor, before Amy got there, I think.
New Bedford Pl MA – amazing building and we got to peek at some of the artwork they were restoring.
Topeka/Shawnee KS – a great tour by David Lee King, consummate friend to librarians everywhere.
Lincoln Public NE – stopped in before dinner with Michael, busy and overtaxed.
Merriam Park – St Paul MN – smaller neat suburban library.
Union/Tiverton RI – so cute, so small! Librarian so friendly!
Ashland NE – stopped by when I was on a drive. Neat old building, soon to be renovated, amazingly friendly and helpful librarian.
Carney/Dartmouth MA – gosh I love this weird place and I want to go back there all the time.
Monmouth/Manalapam NJ – doesn't look like much from the outside but has a lot going on.
I had such a good time visiting all of these places. I can get sort of schmaltzy sometimes but I think the public library system in the US is a truly terrific thing. Here's to another great year of library visits.