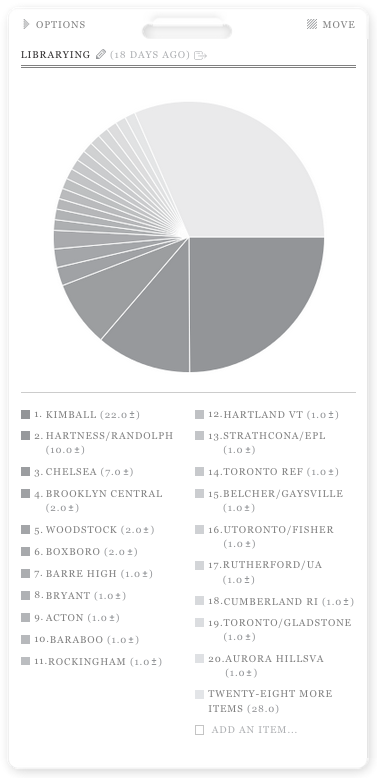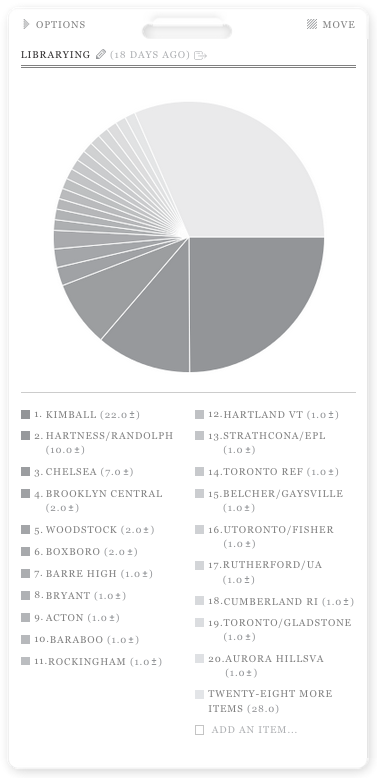 I love to visit libraries. Every year I make a list and think about it at year's end. This year I went to 48 libraries in seven states and three Canadian provinces. Eighty-seven library visits total. Previous years: 2016, 2015, 2014, 2013, 2012, 2011, 2010, 2009 and some reviews from 2003.
It was a weird year. I spent more of it away from home than usual, needing things to distract me. I followed more well-trodden paths otherwise. I was planning to visit ALL the Harvard libraries before my fellowship expired, but things don't always go like I plan.
Libraries I went to a lot
Kimball (VT) – My local
Hartness (VT) – The local academic
Chelsea (VT) – Over the mountain, I worked some shifts this year.
Boxboro (MA) – Library that my mom went to, I probably went there more than twice but that's all I wrote down
All the rest of the libraries
Woodstock (VT) – stopped by on a snowy day
Brooklyn Central (NY) – gave a talk and got to open one of those BIG windows out front
Barre High (VT) – said hello after my CRAAP talk
Bryant (RI) – RILA talk, such a nice library
Acton (MA) – the library I spent the most time in as a teenager
Baraboo (WI) – cute and lovely Carnegie
Rockingham (VT) – gave a privacy talk, enjoyed the Hetty Green exhibits
Hartland (VT) – did some Passport planning
Strathcona/EPL (Edmonton AB) – a lovely old building in Edmonton
Toronto Ref (Toronto ON) – The Ref, so big, so grand, got the full tour
Belcher/Gaysville (VT) – a live-in library with a lot of funky stories
UToronto/Fisher (Toronto ON) – big and bold
Rutherford/UA (Edmonton AB) – lots of places to wander in this library, love the engagement work they do
Cumberland (RI) – full tour including the roof!
Toronto/Gladstone (Toronto ON) – a lovely and PACKED public library
Aurora Hills (VA) – this library is not accessible to people in wheelchairs
Alburg (VT) – on my way out of the country, they loan snowshoes
Westport (MA) – did not manage to get here much
Norwich U (VT) – haven't been here in a while and was happy to go back
VT State Library (VT) – they are moving to a new building! maybe my last time here
Montreal PL (Quebec) – wide-ranging and somewhat opaque to someone who doesn't speak good French
Montpelier PL (VT) – love all the wood in this place
Springfield (VT) – stopped by to see Amy
Randall/Stow (MA) – raptor show!!
Harvard Public (MA) – really great renovation at this place
Brown/Northfield (VT) – stopped by on a cold day
Brookfield (VT) – a classic one room library
Widener/Harvard (MA) – the library to end all libraries, spent a lot of time in the basement
Library of Congress (DC) – the other library to end all libraries
Toronto/Palmerston (Toronto ON) – a small branch, very busy
Toronto/Robarts (Toronto ON) – big and wide ranging, hard to get in and out of
Maynard (MA) – killed some time here and enjoyed it
West Acton (MA) – never been to this tiny library before
Bethel (VT) – taught a class and it went well
Wayland (MA) – the library near the hospice, under construction
Arlington popup (VA) – seemed to be the antidote for the other non-accessible library. very hard to find
Tozzier/Harvard (MA) – open a lot, wish I could have spent more time here
Quechee (VT) – old and classic, we looked at bird books here
Rochester (VT) – privacy talk and hang out time, new kids space is great
Goodnow/Sudbury (MA) – also close to hospice and a much better/bigger and more welcoming library
Saratoga Springs PL (FL) – a great place walking distance from the conference
Tiverton PL (RI) – did not get here as much as I wanted either
Whiting/Chester (VT) – stopped by to drop off passports, met some nice men and we had a great talk
Niceville PL (FL) – quick stop to say hi to the fish tank
I remain eternally grateful to people who took time out from their jobs to show me around, tell me their stories and share with me what is special about their communities.