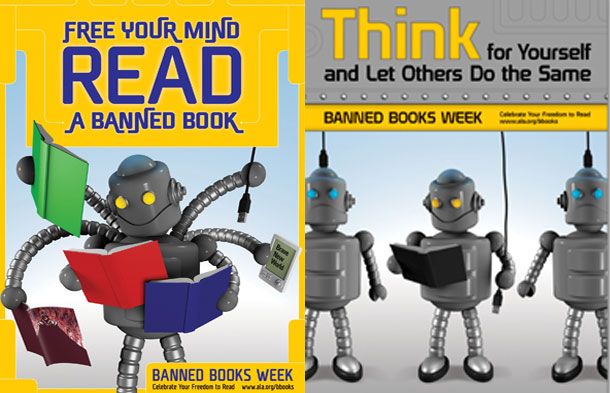 It's time for my semi-regular round up of Banned Books Week websites. You can look at past posts on this topic by checking out the bannedbooksweek tag here or here is a list of the annual posts More on the Chicago Defender.
Here are my old Banned Books Weeks posts: 2000, 2001, 2002, 2003, 2004, 2006, 2007, 2008, 2009 and 2010. I skipped 2005.
As usual, you get a neat real-time look at what's going on by following the Twitter hashtag. As usual there are two "main" sites the ALA site at ala.org/bbooks and the bannedbooksweek.org site. ALA has their usual site, links to shopping, links to the main site (which is a 404, oops), links to advocacy materials. They decided to do a virtual read-out instead of an in-person event and I've been clicking through some of the YouTube videos on the BBW channel. All the stuff I've seen so far seems like it would be what we call SFW [safe for work] and I'm vaguely curious if there could be something so racy that you'd get one of those "You have to be 14 to see this video" warnings up because, hey, that's its own form of limiting speech. But I think that stuff is only for photos of people in their underwear, or maybe self-reported. The Banned Books Week main site has been up and down today and seems to mostly be pointing to the same stuff. They have a Twitter account but have never used it. The design gets better every year.
Here is the list of organizations who are co-sponsors. Let's look at their websites.
There is also the Center for the Book in the Library of Congress who endorses Banned Books Week (though no link on their site?) as well as a few organizations who have signed on as sponsors
So I'd cautiously call this an improvement over last year. More coordinated programming, better talking between sites. I'm still looking for a good Banned Books Week Twitter list [i.e. with the sponsors] and if I don't see one I guess I'll make one. I've been enjoying the YouTube videos. My own tastes this year go to ebooks and thinking about, with the additional layer of middlemen in the ebook world of buying, licensing and lending, what it really means to be banned or censored an an ebook universe. Look for a post about pirates later in the week.