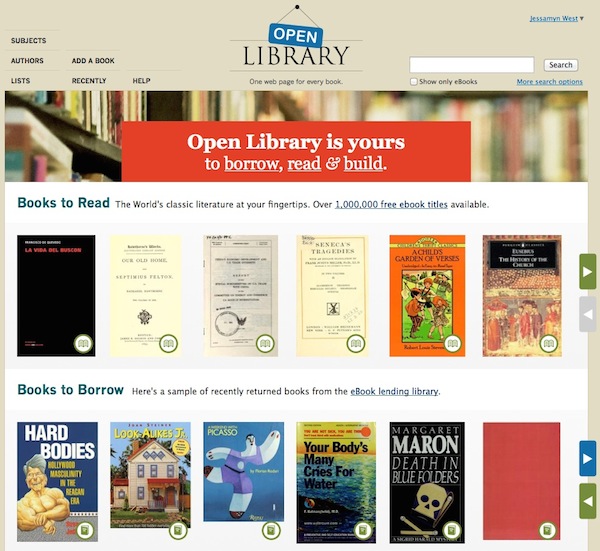 I promised to write about this a few days ago and it's been, quite a week. Short version: starting May 1st I took a job doing user support for Open Library. It's very part time, very fulfilling and a lot of fun.
Longer story: MetaFilter, my internet home for over a decade and my employer for almost that long, has been going through some challenges. There was a severe financial downturn (the site is nearly 100% advertiser supported, allowing them to have nearly eight full time employees) and staffing was going to have to be reduced. You can read about some of that happened on Search Engine Land or Matt Haughey's post on Medium because this was basically a weird "I wonder what happened at Google?" situation. We'd been facing decreasing revenue for about eighteen months and things weren't improving. As the person in charge of running the site but not managing the money aspect of it, the last year and a half had been really bad for morale. Not knowing if your job was going away, getting gloom-and-doom reports from on high, not being able to plan for the future because you don't know if there will be a future, are just destabilizing and not allowing me to do my job to the best of my ability. I have a longer version of this that I'd be happy to explain over a beer or two, but that was the general gist.
And ultimately, as much as I loved what I'd built–Ask MetaFilter is one of the best Q&A sites around, bar none, the moderation team is the best group of moderators there is, period–my "career goals" such as they are weren't with website moderation, they were and remain with libraries. So when stuff started getting hairy in late 2012, I decided I needed a non-MetaFilter hobby, one that was library related, and I decided to talk to the Internet Archive about helping out with Open Library. Open Library, if you don't know, lends ebooks worldwide. Worldwide. It's a cool project.
I hadn't known at the time that Open Library was a bit of a ghost ship, being kept alive and online but not really in active development. I put my head down and just started answering emails, reporting bugs, being the change I wanted to see in Open Library. And once the writing was on the wall at MeFi, that I could stay on as the oldest employee but in a work situation that was more "Everyone works all the time" which was no longer something I wanted to do, I talked to the Archive about getting an actual job-job. I made a data-based pitch "Look, I answered 7000 emails last year and rewrote the help pages and FAQ, user support is probably something that either needs more volunteers or a paid staff member" and they agreed to take me on as a part-timer to keep doing what I was doing, and maybe do a little more.
So I still answer emails, but I also attend staff meetings (via Skype) and have the keys to the Twitter and the blog. It's weird working in a free culture type of place but still working with Adobe's DRM nearly every day. I made a graceful mod exit from MetaFilter and I still continue to hang out there, because why wouldn't I?
Long range I'm not sure what my plan is. I've got the same adult education job in my small town in Vermont and don't plan to leave that. I still write a regular column for Computers in Libraries and I'm still on the road doing public speaking stuff about once a month (contact me if you'd like me to come speak at your event) which I may ramp up depending on how this all goes. I still have a lot of Vermont libraries to visit. I'm trying, despite my tendency to overwork, to take the summer at least partly off. And one of the things I want to do, oddly enough, is spend more time on my blog, writing down more of the things I am working on, in a place that's mine and not MetaFilter's.
That's the news. I'm excited to get back to working more with libraries, all kinds of libraries.