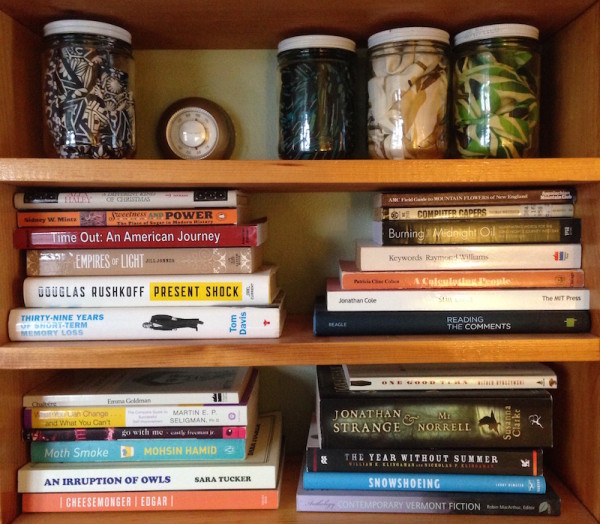 I started 91 books this year and finished 89. I'm now fully in the swing of reading at least 30 minutes before bed which has been great. Last year I had a lot of random low-level health issues which complicated matters a bit but I'm still pretty happy with how the Year in Reading turned out.
average read per month: 7.47
average read per week: 1.7
number read in worst month: 5 (Apr)
number read in best month: 11 (Aug)
number unfinished: 2
percentage by male authors: 59
percentage by female authors: 41
percentage of authors of color: 3
fiction as percentage of total: 73
non-fiction as percentage of total: 27
percentage of total liked: 90
percentage of total ambivalent: 7
percentage of total disliked: 3
The biggest issue this year was that I didn't actively prioritize reading authors of color and so I just didn't. No good. Must do better. Did okay with non-US authors but that's not the same. I did a lot of social justice online reading and kept a bookshelf of worthwhile articles over at This.cm but I needed to translate more of this into book length reading and I did not. Digging into the Louise Penny series upped my percentage of female authors but I still need to work on that. I read a lot of books that I really enjoyed this past year including a history of spam and a photography book about large trees. I got a lot more suggestions from reading Library Journal than usual which was good and bad. I added a few books to my Best in Show shortlist. If you've made a reading list for last year, I'd love to read it. Happy New Year.
Previous librarian.net summaries: 2014, 2013, 2012, 2011, 2010, 2009, 2007, 2006, 2005, 2004. My always-updated booklist lives at jessamyn.info/booklist and it has its own RSS feed which is mostly not broken.