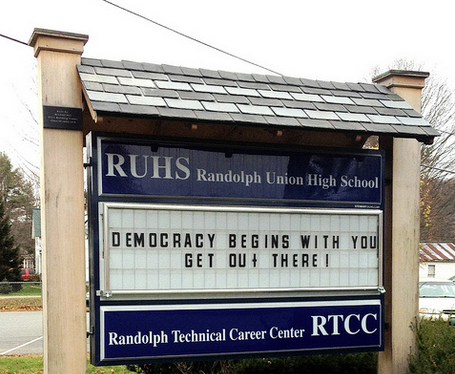 [another edited post from a mailing list discussing digitally divided citizens. Some people were reflecting that their elected officials don't remember being offline. In Vermont we have a different issue]
In Vermont where, at least where I live, ​our elected officials are themselves digitally divided and so can't always make good choices for the populations they serve. So issues like:
What does a good website look like?
What is a "normal" way to use email?
What is reasonable to expect people to do technologically in 2016?
Are all determined by people who do not have much of an idea of the normative expectations in the space and who have to make decisions about those things. So to these three points…
We have Vermont Health Connect debacle, very expensive and costing the state a hundred million dollars. People managing the program didn't recognize that a website without a LOGIN button was actually not a good website (among other things). I've written up my feelings at length here.
My state representative shares an email address with her husband, that is her only point of electronic contact. They're both lovely people, but they're not just citizens, they are sort of like role models and this is not a good tech lifestyle to model. Our local local library has a privacy policy to account for couples or even families with shared email addresses. Which is sort of good, people deserve privacy, but also bending over backwards so people don't have to get themselves an email address which is normative in 2016.
I serve on a town board. We get notifications for dates and times of our meetings in postal mail.​ We receive all of our documents in postal mail. This is inconvenient and wasteful (in both time and resources) but our town clerk is not that tech savvy and this works for her and the majority of the board. It won't change until she retires.
Vermont recently changed their Open Meeting laws to tell towns with websites they needed to put notes from government meetings online within a few days of the meeting happening. Some towns opted to take down their website because they felt compliance would be too onerous. And all of these decisions happen at a town by town level.
People without a good understanding of the tech ecosystem are vulnerable to people who want to sell them things and can't properly evaluate what they are being sold. I spend a lot of time just outlining what "normal" is to people and then getting a lot of aggravated "Well this way has always worked for us, kids today and all their electronic gadgets…!" pushback. So we do need to attack the problem of the digital divide from both (all) sides.