The Vermont Department of Public Service will hold public hearings to gather public input on the final draft of the 2014 Vermont Telecommunications Plan. The Plan addresses the major ongoing developments in the telecommunications industry, including broadband infrastructure development, regulatory policy and recommendations for future action. The Department will hold two public hearings in Orange County on the public comments draft of the Plan prior to adopting the final Plan. Middle Branch Grange, 78 Store Hill Road, East Bethel, Vermont, September 18, 2014, at 2:00 p.m.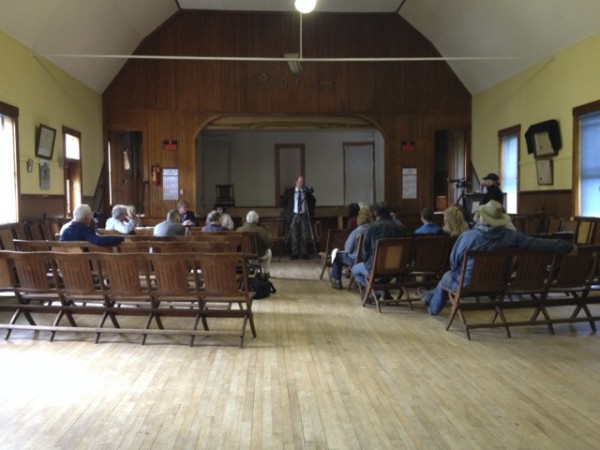 I went to this meeting. There weren't even going to be any meetings in Orange County, the county where I live, until someone showed up at one of the Barre meetings and suggested them. So there were two meetings in Orange County last week. One during the day in Bethel and one in the evening in Strafford. Unfortunately the weather didn't totally cooperate so there was a local power outage for some reason and a forecast of a hard frost that evening. So a lot of the farmers who would have shown up at this even had to stay home and cover plants and do other things that farmers do when the weather starts getting cold.
I've been doing a lot of leisure-time stuff in keeping with my theme this month but today I went to work. I sat and listened to multiple stories of farmers and other neighbors struggling with digital disinclusion. I took some notes and I made a statement. This is the polished version of what I said.
My name is Jessamyn West, I'm a technology educator in Randolph Vermont and I wrote a book about the digital divide. I have three points I'd like to make
We're interested in results, not projections. A lot of the data we hear talks about when we're going to have everyone online, or points to the number of people who have this technology available. I'd like to know why people aren't online and what we're doing to work with those people. Saying that most Vermonters have access overlooks the chunk of people with no access who should be the focal point of future build-outs. This report talks about how Burlington Vermonters have a choice of ISPs and overlooks that most of us have almost no consumer choice at all.
And while we're getting people access, let's make sure they all have the same access. People talk about 3G and 4G as if they are the same as cable or DSL. They're not. They come with bandwidth caps, overage charges, and a lot of concern about impending lack of net neutrality. Similar to how, back when people had dial-up, some people in more remote locations had to pay for the phone calls in addition to having to pay for the service. We're seeing the same gap now with remote users only having satellite or cellular-based access. We should strive for everyone having equitable access.
Most important to me is what we call the empowerment or the usability divide. I heard a person earlier say she wanted to get access to the internet so that she could run a website for her small business. Just getting access isn't going to give her a website. She'll need resources and likely some human help in order to be able to do that. And where does that come from? It used to be that the digital divide was just "People don't have access to computers" and then it was "People don't have access to the internet" and now that most people have access, sometimes only through their public library, we are still seeing participation gaps. These gaps align along the same lines as other structural inequalities like poverty, educational attainment, age, race, and disability status. The people not participating are already facing multiple challenges. We know this. We need to find a way to support those people and not reinforce those inequalities.
The hardest to serve have always been the hardest to serve; the challenge of getting everyone online is going to necessarily mean having a plan for those people as well as everyone else. Thank you.