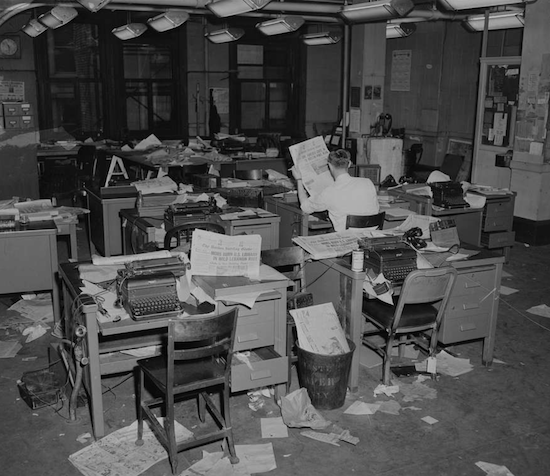 From our local librarian mailing list: Is it possible for library patrons to have free access to newspapers like The New York Times, The Washington Post, and those other big, famous ones? Or even little, non-famous ones?
I took this as a bit of a question about paywalls, though our State Library did chime in to say that there is some access available through Gale OneFile, specifically "the New York Times is available, while the Washington Post is not. USA Today looks to have a 3-day delay, and the Guardian has a 1-day delay."
Paywall stuff is complicated! There are two basic answers to your question: an ethical one and a technical one. The answer to "Can I do this technical thing?" is quite often "Yes but you have to know how, and it might not be ethical."

So first to ethics. These newspapers are subscription-based, subscriber and ad-supported, and cost a variable amount depending on who is subscribing. Some quick numbers
NYT Intro – $52/year, going up to $221/year after the first year
WaPo Intro – $40/year then $100/year after the first year
Burlington Free Press Intro – $6 for first 6 months then $10/month
Valley News – $18/month
Randolph Herald – $42/year
I think many people feel that a library purchasing a single account for themselves and their patrons is probably ethical, others may not think so. Very few online media properties have "library rates" the same way newspapers and magazines used to for print copies. They will often sell access to their digital content in bulk to database aggregators. I am not an electronic resources librarian so can not speak to this aspect (i.e. where to find what) except to note that for most people, diving into a database to read current news an article at a time is not a great user experience.
Now, to the technical aspect. There are some ways around paywalls. People will have to use their own moral compasses to determine how they feel about them. I sometimes use a tool called 12 Foot Ladder to see if I can read a single article on a media property I do not otherwise have access to. It also works on iOS.
A simpler tool is to use a browser's "reader view" to access content behind a "soft paywall" (i.e. one usually behind one of those "You've already read your four free articles this month" types of paywalls, not like "This is Netflix and you don't have an account" types of paywalls)
Reader view is worth knowing about generally because it simplifies the online reader experience and is either built in to your browser or accessible via an add-on. It's a great accessibility tool for people who get overwhelmed with busy web pages and just want to read an article. Here's an article that talks about how it works on Safari.
https://www.makeuseof.com/how-to-use-reader-view-in-safari/
And here's a discussion of how it works in Firefox.
https://support.mozilla.org/en-US/kb/firefox-reader-view-clutter-free-web-pages
I hope everyone read the article by Bill McKibben in the most recent New Yorker, How Vermont's Media Helps Keep the State Together
https://www.newyorker.com/news/daily-comment/how-vermonts-media-helps-keep-the-state-together
Our local media definitely deserves and needs our support.