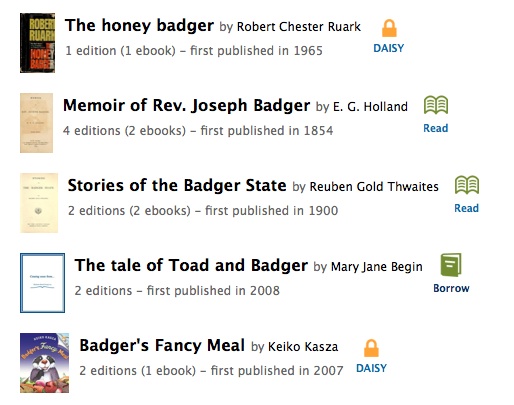 This is shaping up to be the year that people really start seeing ebooks and libraries as things that can go together. ReadWriteWeb just made this post about the Internet Archive getting into the ebook lending business, both via its collection of freely available ebooks as well as a pilot program with a small subset of libraries. This is terrific. It is also confusing. I followed the links in the press release and on the Internet Archive site itself and could not figure out exactly how I'd go about borrowing a book if I was a part of a member library (I have a Boston Public Library card). That said, wow the interface itself is knockout and just made me want to click around and mess with it.
Oddly the minor problem I had, and it is minor, is the same as the complaint that people who have used OverDrive via their own library to try to read ebooks. This reporter from the Wall Street Journal explains the headache that is trying to search OverDrive for available titles, those that are available for checkout. In order to check out and download an ebook, which I eventually did, I had to
– Search Open Library for ebooks
– Find one with a "borrow" icon next to it. OL also offers DAISY format for people who are visually impaired as well as many books that can be read locally.
– Get redirected to a search on OverDrive's site saying "nothing available." Redo search on OverDrive's site to find this title available.
– Click WorldCat's "find in a library" option and type in my zipcode
– Figure out that book is or is not available from my local library. Start again.
– When I find a book that is available, click through to my local library catalog & click "add to cart" to return to OverDrive (if book is available, which it sometimes isn't)
– Take side trip to download Adobe Digital Editions (much less painful than previous OverDrive software experience)
– Proceed to "checkout" on OverDrive after entering a library card number that I think will work
– Download book. Read book.
So, not terribly bad and I think better interfaces and interactions between websites will make this process much more seamless. Right now I had to interact with Open Library, OverDrive, WorldCat, my library's branded OverDrive page and my library catalog. At several stages during this process there are varying levels of "availability" of an item. Specifically.
– Book is shown in Open Library but is not available at a library I have access to.
– Book is available at a library I have access to, but not in the format I am looking for.
– Book is available at a library I have access to in the format I want but has been "checked out."
Currently there is no one way to do a search for an ebook and have a result say "Yes we have it, it's in this format, and it's available NOW" I am optimistic that it is a matter of time before this is working and Open Library is currently making this work better than anyone else. Update: the Palm Beach County Library has a really nice interface that makes it a lot more clear what's there and what's actually available.